Choose from our value-added chicken product range today and discover the convenience of having high-quality, healthy chicken products available to you whenever you need them. Our value-added chicken products are perfect for those who want to enjoy the flavor and convenience of pre-marinated chicken.
Experience the difference that comes from choosing Grain Field Chickens value-added chicken products. We provide convenient delivery options and our wel priced products ensure that you get the best value for your money. Place an order with us today.
Our commitment to quality extends beyond our products. We are dedicated to providing you with excellent customer service, support and our team is always available to answer your questions and help you find the right products for your needs.
*RSP is Including Vat, price is per unit unless the price is RDW then Per KG 
Marinated Spatchcock
Marinated Lemon & Herb Chicken Spatchcock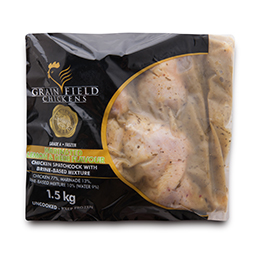 | | |
| --- | --- |
| PRODUCT CODE | ZVG 013 |
| PRODUCT DESCRIPTION | Marinated Lemon & Herb Chicken Spatchcock |
| UNITS PER CASE/BAG | 6 |
| AVERAGE UNIT WEIGHT | 1.5 kg |
| AVERAGE CASE WEIGHT | 9 kg |
| UNIT BARCODE  | 6009 703 320 402 |
| CASE BARCODE | 2 6009 703 320 406 |
| PALLET CONFIG. | 75 |
Marinated Barbeque Chicken Spatchcock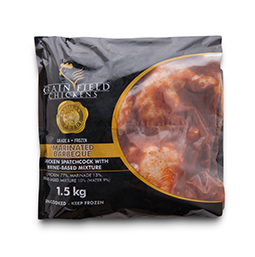 | | |
| --- | --- |
| PRODUCT CODE | ZVG 113 |
| PRODUCT DESCRIPTION | Marinated Barbeque Chicken Spatchcock |
| UNITS PER CASE/BAG | 6 |
| AVERAGE UNIT WEIGHT | 1.5 kg |
| AVERAGE CASE WEIGHT | 9 kg |
| UNIT BARCODE  | 6009 703 320 419 |
| CASE BARCODE | 2 6009 703 320 413 |
| PALLET CONFIG. | 75 |
Marinated Portuguese Peri Peri Chicken Spatchcock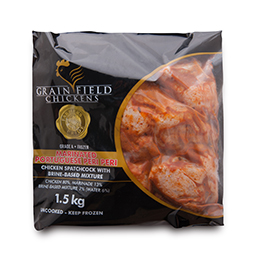 | | |
| --- | --- |
| PRODUCT CODE | ZVG 213 |
| PRODUCT DESCRIPTION | Marinated Portuguese Peri Peri Chicken Spatchcock |
| UNITS PER CASE/BAG | 6 |
| AVERAGE UNIT WEIGHT | 1.5 kg |
| AVERAGE CASE WEIGHT | 9 kg |
| UNIT BARCODE  | 6009 703 320 396 |
| CASE BARCODE | 2 6009 703 320 390 |
| PALLET CONFIG. | 75 |
Marinated Honey & Mustard Chicken Spatchcock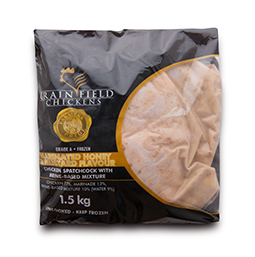 | | |
| --- | --- |
| PRODUCT CODE | ZVG 313 |
| PRODUCT DESCRIPTION | Marinated Honey & Mustard Chicken Spatchcock |
| UNITS PER CASE/BAG | 6 |
| AVERAGE UNIT WEIGHT | 1.5 kg |
| AVERAGE CASE WEIGHT | 9 kg |
| UNIT BARCODE  | 6009 703 320 501 |
| CASE BARCODE | 2 6009 703 320 505 |
| PALLET CONFIG. | 75 |
---
Marinated leg Quarters
Marinated Lemon & Herb Chicken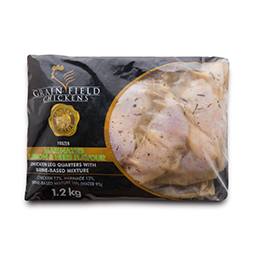 | | |
| --- | --- |
| PRODUCT CODE | ZVG 035 |
| PRODUCT DESCRIPTION | Marinated Lemon & Herb Chicken Leg Quarters |
| UNITS PER CASE/BAG | 8 |
| AVERAGE UNIT WEIGHT | 1.2 kg |
| AVERAGE CASE WEIGHT | 9.6 kg |
| UNIT BARCODE  | 009 703 321 126 |
| CASE BARCODE | 2 6009 703 321 120 |
| PALLET CONFIG. | 75 |
Marinated Barbeque Chicken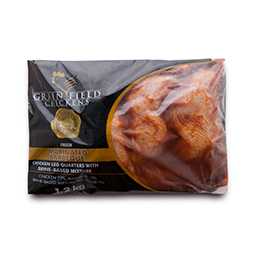 | | |
| --- | --- |
| PRODUCT CODE | ZVG 135 |
| PRODUCT DESCRIPTION | Marinated Barbeque Chicken Leg Quarters |
| UNITS PER CASE/BAG | 8 |
| AVERAGE UNIT WEIGHT | 1.2 kg |
| AVERAGE CASE WEIGHT | 9.6 kg |
| UNIT BARCODE  | 009 703 321 133 |
| CASE BARCODE | 2 6009 703 321 137 |
| PALLET CONFIG. | 75 |
Marinated Portuguese Peri Peri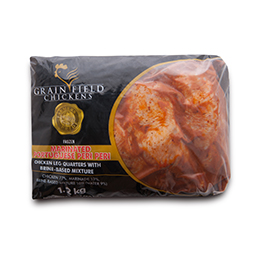 | | |
| --- | --- |
| PRODUCT CODE | ZVG 235 |
| PRODUCT DESCRIPTION | Marinated Portuguese Peri Peri Chicken Leg Quarters |
| UNITS PER CASE/BAG | 10 |
| AVERAGE UNIT WEIGHT | 1.2 kg |
| AVERAGE CASE WEIGHT | 9.6 kg |
| UNIT BARCODE  | 6009 703 321 119 |
| CASE BARCODE | 2 6009 703 321 113 |
| PALLET CONFIG. | 75 |
Marinated Honey & Mustard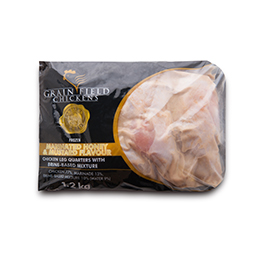 | | |
| --- | --- |
| PRODUCT CODE | ZVG 335 |
| PRODUCT DESCRIPTION | Marinated Honey & Mustard Chicken Leg Quarters |
| UNITS PER CASE/BAG | 10 |
| AVERAGE UNIT WEIGHT | 1.2 kg |
| AVERAGE CASE WEIGHT | 9.6 kg |
| UNIT BARCODE  | 6009 703 321 140 |
| CASE BARCODE | 2 6009 703 321 144 |
| PALLET CONFIG. | 75 |
---
Chicken Buffalo Wings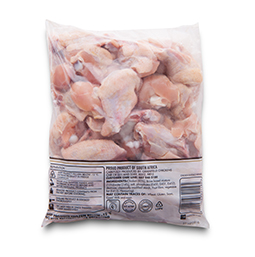 | | |
| --- | --- |
| PRODUCT CODE | ZVG 052 |
| PRODUCT DESCRIPTION | Chicken Buffalo Wings RDW |
| UNITS PER CASE/BAG | 10 |
| AVERAGE UNIT WEIGHT | RDW |
| AVERAGE CASE WEIGHT | RDW |
| UNIT BARCODE  | Weight embedded |
| CASE BARCODE | Weight embedded |
| PALLET CONFIG. | 75 |
| RSP |  RDW |