We offer a wide range of chicken products to meet the needs of our chicken retailers and consumers. Whether you are looking for fresh or frozen chicken, we've got you covered. Our value-added chicken products are also a hit with our customers, who appreciate the convenience and variety they offer.
Browse our chicken product range today and discover the delicious and healthy options available to you. From whole chickens to chicken pieces, fillets, and wings, we have something for everyone. Our value-added products include marinated chickens, making mealtime easier and more delicious than ever./p>
Place your chicken order with us today and experience the difference that comes from choosing high-quality, healthy chicken products. We offer convenient delivery options and competitive pricing to ensure that you get the best value for your money.
Choose from our wide selection of chicken products: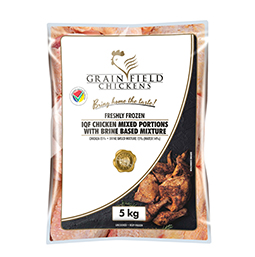 Frozen Chicken Range
Grain Field Chickens' food processing standards is one of the best in South Africa. Our Individually Quick Frozen or IQF chicken processing method efficiently packages our poultry products to preserve freshness and flavour.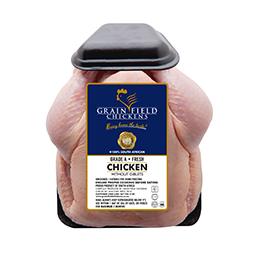 Fresh Chickens
Our poultry farm in Reitz offers a rich, healthy, and stress-free environment for GFC chickens. We want our South African consumers to have access to nutritious and farm-fresh chickens.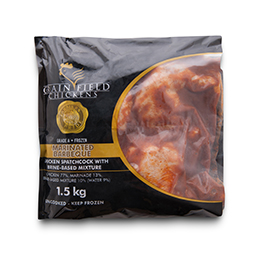 Value-added Products
Serve easy-to-cook and scrumptious South African chicken meals for any occasion with our value-added chicken products. We offer marinated chicken spatchcocks and leg quarters, as well as Buffalo wings.


Looking for inspiration for your next chicken meal? Check out our collection of chicken recipes and discover new and exciting ways to prepare your Grain Field Chickens products. From classic roast chicken to spicy chicken curry, our recipes are easy to follow and always delicious.
Our chicken recipes made with Grain Field Chickens products are a sure holiday hit!