Experience the convenience of having top-quality, healthy chicken products available at all times by browsing our fresh chicken product range today. Our products are ideal for busy families, chicken retailers, and restaurants seeking to offer their customers the best in quality and convenience. 
Placing an order with us is easy. We offer competitive pricing and flexible delivery options to ensure that you get the best value for your money. Our commitment to quality extends beyond our products, as we strive to deliver excellent customer service and support. Our team is always available to answer your questions and help you find the right products to meet your needs. 
Choose Grain Field Chickens for the best in healthy, grain-fed fresh chicken products. Browse our range, place your order, and experience the convenience and quality of our fresh chicken products today. 
*RSP is Including Vat, price is per unit unless the price is RDW then Per KG
Fresh Whole Chickens 
Whole Bird in Bag with Giblets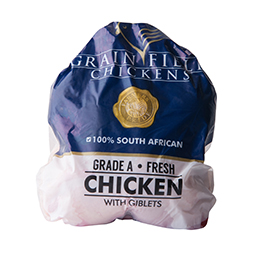 | | |
| --- | --- |
| PRODUCT CODE | FGR 001 |
| PRODUCT DESCRIPTION | Whole Bird in Bag with Giblets 1 PK |
| UNITS PER CASE/BAG | RDW kg's |
| AVERAGE UNIT WEIGHT | RDW |
| AVERAGE CASE WEIGHT | RDW |
| UNIT BARCODE  |   |
| CASE BARCODE |   |
| PALLET CONFIG. |   |
Whole Bird in Tray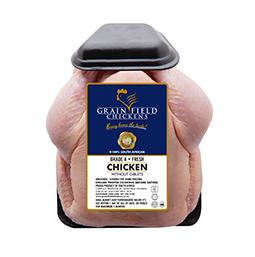 | | |
| --- | --- |
| PRODUCT CODE | FGR 000 |
| PRODUCT DESCRIPTION | Whole Bird in Tray 1 PK |
| UNITS PER CASE/BAG | RDW kg's |
| AVERAGE UNIT WEIGHT | RDW |
| AVERAGE CASE WEIGHT | RDW |
| UNIT BARCODE  |   |
| CASE BARCODE |   |
| PALLET CONFIG. |   |
---
Fresh Braai Packs
Braaipack 5 Piece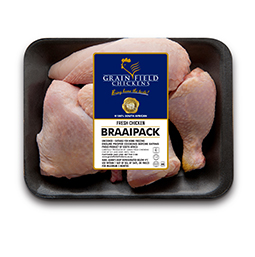 | | |
| --- | --- |
| PRODUCT CODE | FPR 062 |
| PRODUCT DESCRIPTION | Braaipack 5 Piece 1 PK |
| UNITS PER CASE/BAG | RDW kg's |
| AVERAGE UNIT WEIGHT | RDW |
| AVERAGE CASE WEIGHT | RDW |
| UNIT BARCODE  |   |
| CASE BARCODE |   |
| PALLET CONFIG. |   |
Braaipack 16 Piece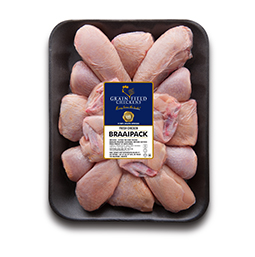 | | |
| --- | --- |
| PRODUCT CODE | FPR 061 |
| PRODUCT DESCRIPTION | Braaipack 16 Piece 1 PK |
| UNITS PER CASE/BAG | RDW kg's |
| AVERAGE UNIT WEIGHT | RDW |
| AVERAGE CASE WEIGHT | RDW |
| UNIT BARCODE  |   |
| CASE BARCODE |   |
| PALLET CONFIG. |   |
---
Prime portions
Fresh Wings 6 Piece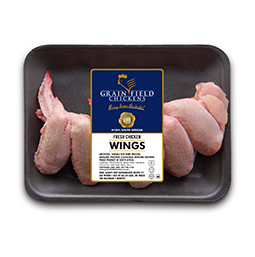 | | |
| --- | --- |
| PRODUCT CODE | FPR 020 |
| PRODUCT DESCRIPTION | Wings 6 Piece 1 PK |
| UNITS PER CASE/BAG | RDW kg's |
| AVERAGE UNIT WEIGHT | RDW |
| AVERAGE CASE WEIGHT | RDW |
| UNIT BARCODE  |   |
| CASE BARCODE |   |
| PALLET CONFIG. |   |
Fresh Thighs 4 Piece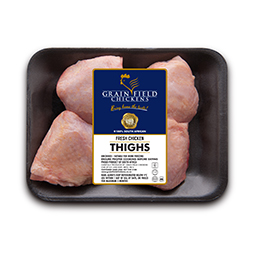 | | |
| --- | --- |
| PRODUCT CODE | FPR 030 |
| PRODUCT DESCRIPTION | Thighs 4 Piece 1 PK |
| UNITS PER CASE/BAG | RDW kg's |
| AVERAGE UNIT WEIGHT | RDW |
| AVERAGE CASE WEIGHT | RDW |
| UNIT BARCODE  |   |
| CASE BARCODE |   |
| PALLET CONFIG. |   |
Fresh Drumsticks 6 Piece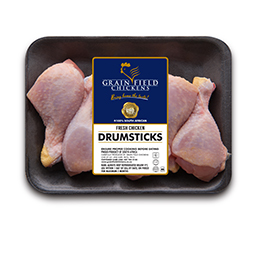 | | |
| --- | --- |
| PRODUCT CODE | FPR 010 |
| PRODUCT DESCRIPTION | Drumsticks 6 Piece 1 PK |
| UNITS PER CASE/BAG | RDW kg's |
| AVERAGE UNIT WEIGHT | RDW |
| AVERAGE CASE WEIGHT | RDW |
| UNIT BARCODE  |   |
| CASE BARCODE |   |
| PALLET CONFIG. |   |
Fresh Drums & Thighs 4 Piece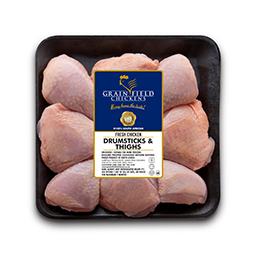 | | |
| --- | --- |
| PRODUCT CODE | FPR 070 |
| PRODUCT DESCRIPTION | Drums & Thighs 4 Piece 1 PK |
| UNITS PER CASE/BAG | RDW kg's |
| AVERAGE UNIT WEIGHT | RDW |
| AVERAGE CASE WEIGHT | RDW |
| UNIT BARCODE  |   |
| CASE BARCODE |   |
| PALLET CONFIG. |   |
Fresh Leg Quarters 2 Piece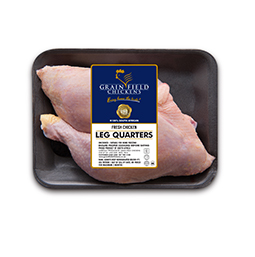 | | |
| --- | --- |
| PRODUCT CODE | FPR 050 |
| PRODUCT DESCRIPTION | Leg Quarters 2 Piece 1 PK |
| UNITS PER CASE/BAG | RDW kg's |
| AVERAGE UNIT WEIGHT | RDW |
| AVERAGE CASE WEIGHT | RDW |
| UNIT BARCODE  |   |
| CASE BARCODE |   |
| PALLET CONFIG. |   |
Fresh Mini Skinless Breast Fillets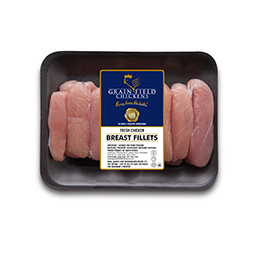 | | |
| --- | --- |
| PRODUCT CODE | FPR 042 |
| PRODUCT DESCRIPTION | Mini Skinless Breast Fillets |
| UNITS PER CASE/BAG | RDW kg's |
| AVERAGE UNIT WEIGHT | RDW |
| AVERAGE CASE WEIGHT | RDW |
| UNIT BARCODE  |   |
| CASE BARCODE |   |
| PALLET CONFIG. |   |
Fresh Skinless Breast Fillets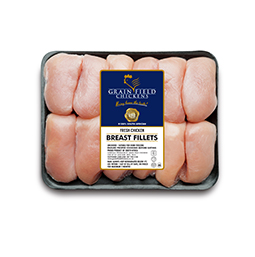 | | |
| --- | --- |
| PRODUCT CODE | FPR 044 |
| PRODUCT DESCRIPTION | Skinless Breast Fillets 5 1 PK |
| UNITS PER CASE/BAG | RDW kg's |
| AVERAGE UNIT WEIGHT | RDW |
| AVERAGE CASE WEIGHT | RDW |
| UNIT BARCODE  |   |
| CASE BARCODE |   |
| PALLET CONFIG. |   |