Browse our frozen chicken product range today and discover the convenience of having high-quality, healthy chicken products available to you whenever you need them. Our frozen chicken products are perfect for busy families, restaurants, and chicken retailers who want to offer their customers the best in quality and convenience. 
Place your chicken order with us today and enjoy the quality that comes from choosing Grain Field Chickens frozen chicken products. Our products are competitively priced and delivery of our products to ensure that you get the best birds for your budget. 
Our team is committed to delivering exceptional customer service and support, and we're always ready to assist you in finding the products that best suit your requirements. Feel free to reach out to us with any inquiries or concerns you may have. 
The RSP* is a suggested retail selling price and is inclusive of VAT. Price per unit unless the price is RDW then Per KG
Frozen Prime
Chicken Braai Pack 600 g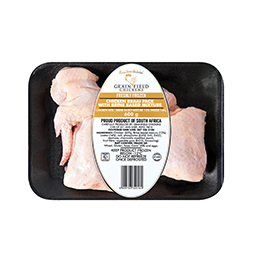 | | |
| --- | --- |
| PRODUCT CODE | ZTG 014  |
| PRODUCT DESCRIPTION | Chicken Braai Pack 600 g |
| UNITS PER CASE/BAG | 12 |
| AVERAGE UNIT WEIGHT | 600 g |
| AVERAGE CASE WEIGHT | 7.2 kg |
| UNIT BARCODE  | 6009 703 321 034 |
| CASE BARCODE | 2 6009 703 321 038 |
| PALLET CONFIG. | 75 |
Chicken Braai Pack 800 g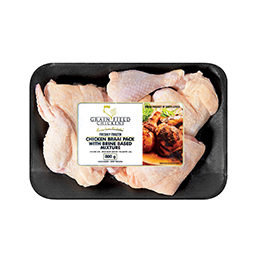 | | |
| --- | --- |
| PRODUCT CODE | ZTG 013 |
| PRODUCT DESCRIPTION | Chicken Braai Pack 800 g |
| UNITS PER CASE/BAG | 8 |
| AVERAGE UNIT WEIGHT | 800 g |
| AVERAGE CASE WEIGHT | 6.4 kg |
| UNIT BARCODE  | 6009 703 321 027 |
| CASE BARCODE | 2 6009 703 321 021 |
| PALLET CONFIG. | 100 |
Chicken Mini Breast Fillets
| | |
| --- | --- |
| PRODUCT CODE | ZTG 061 |
| PRODUCT DESCRIPTION | Chicken Mini Breast Fillets |
| UNITS PER CASE/BAG | 2 |
| AVERAGE UNIT WEIGHT | 5 kg |
| AVERAGE CASE WEIGHT | 10 kg |
| UNIT BARCODE  | 6009 703 320 587 |
| CASE BARCODE | 2 6009 703 320 581 |
| PALLET CONFIG. | 75 |
Layer Pack Chicken Leg Quarters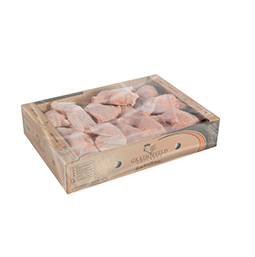 | | |
| --- | --- |
| PRODUCT CODE | ZTG 052 |
| PRODUCT DESCRIPTION | Layer Pack Chicken Leg Quarters |
| UNITS PER CASE/BAG | 1 |
| AVERAGE UNIT WEIGHT | 10 kg |
| AVERAGE CASE WEIGHT | 10 kg |
| UNIT BARCODE  | N/A |
| CASE BARCODE | 6009 703 321 249 |
| PALLET CONFIG. | 75 |
Layer Pack Chicken Drumsticks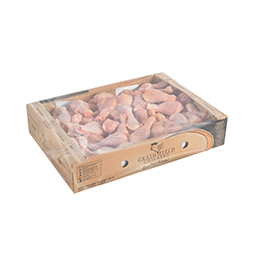 | | |
| --- | --- |
| PRODUCT CODE | ZTG 022 |
| PRODUCT DESCRIPTION | Layer Pack Chicken Drumsticks |
| UNITS PER CASE/BAG | 1 |
| AVERAGE UNIT WEIGHT | 10 kg |
| AVERAGE CASE WEIGHT | 10 kg |
| UNIT BARCODE  | N/A |
| CASE BARCODE | 6009 703 321 225 |
| PALLET CONFIG. | 75 |
Layer Pack Chicken Wings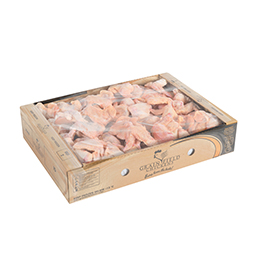 | | |
| --- | --- |
| PRODUCT CODE | ZTG 032 |
| PRODUCT DESCRIPTION | Layer Pack Chicken Wings |
| UNITS PER CASE/BAG | 1 |
| AVERAGE UNIT WEIGHT | 10 kg |
| AVERAGE CASE WEIGHT | 10 kg |
| UNIT BARCODE  | N/A |
| CASE BARCODE | 6009 703 321 232 |
| PALLET CONFIG. | 75 |
Chicken 9 Piece Cut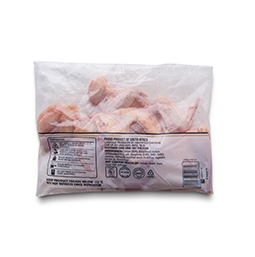 | | |
| --- | --- |
| PRODUCT CODE | ZTG 082 |
| PRODUCT DESCRIPTION | Chicken 9 Piece Cut |
| UNITS PER CASE/BAG | 4 |
| AVERAGE UNIT WEIGHT | 1.65 kg RDW |
| AVERAGE CASE WEIGHT | 6.6 kg RDW |
| UNIT BARCODE  | Weight embedded |
| CASE BARCODE | Weight embedded |
| PALLET CONFIG. | 150 |
Layer Pack Chicken Thighs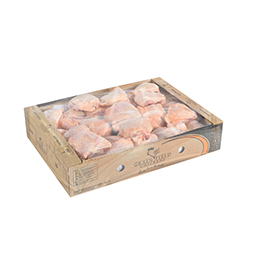 | | |
| --- | --- |
| PRODUCT CODE | ZTG 042 |
| PRODUCT DESCRIPTION | Layer Pack Chicken Thighs |
| UNITS PER CASE/BAG | 1 |
| AVERAGE UNIT WEIGHT | 10 kg |
| AVERAGE CASE WEIGHT | 10 kg |
| UNIT BARCODE  | N/A |
| CASE BARCODE | 6009 703 321 218 |
| PALLET CONFIG. | 75 |
---
Low Value 
Liver Tubs 250 g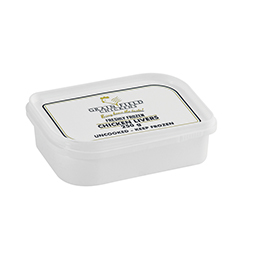 | | |
| --- | --- |
| PRODUCT CODE | ZLG 011  |
| PRODUCT DESCRIPTION | Liver Tubs 250 g |
| UNITS PER CASE/BAG | 32 |
| AVERAGE UNIT WEIGHT | 250 g |
| AVERAGE CASE WEIGHT | 8 kg |
| UNIT BARCODE  | 6009 703 320 112 |
| CASE BARCODE | 2 6009 703 320 116 |
| PALLET CONFIG. | 75 |
Liver Tubs 500 g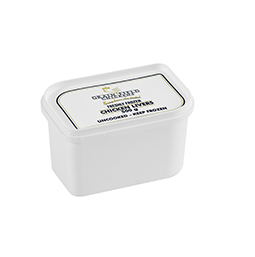 | | |
| --- | --- |
| PRODUCT CODE | ZLG 012 |
| PRODUCT DESCRIPTION | Liver Tubs 500 g |
| UNITS PER CASE/BAG | 16 |
| AVERAGE UNIT WEIGHT | 500 g |
| AVERAGE CASE WEIGHT | 8 kg |
| UNIT BARCODE  | 6009 703 320 198 |
| CASE BARCODE | 2 6009 703 320 192 |
| PALLET CONFIG. | 75 |
Chicken Chunks 360 g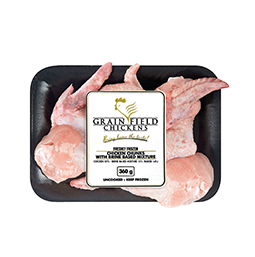 | | |
| --- | --- |
| PRODUCT CODE | ZLG 093 |
| PRODUCT DESCRIPTION | Chicken Chunks 360 g |
| UNITS PER CASE/BAG | 24 |
| AVERAGE UNIT WEIGHT | 360 g |
| AVERAGE CASE WEIGHT | 8.64 kg |
| UNIT BARCODE  | 6009 703 321 041 |
| CASE BARCODE | 2 6009 703 321 045 |
| PALLET CONFIG. | 75 |
Chicken Chunks 600 g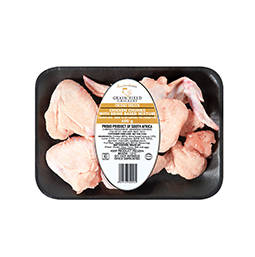 | | |
| --- | --- |
| PRODUCT CODE | ZLG 094 |
| PRODUCT DESCRIPTION | Chicken Chunks 600 g |
| UNITS PER CASE/BAG | 12 |
| AVERAGE UNIT WEIGHT | 600 g |
| AVERAGE CASE WEIGHT | 7.20 kg |
| UNIT BARCODE  | 6009 703 321 065 |
| CASE BARCODE | 2 6009 703 321 069 |
| PALLET CONFIG. | 75 |
Chicken Soup Pack 1 kg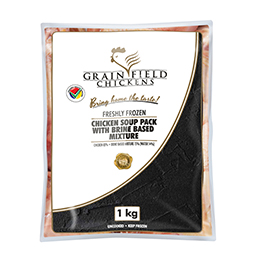 | | |
| --- | --- |
| PRODUCT CODE | ZLG 101 |
| PRODUCT DESCRIPTION | Chicken Soup Pack 1 kg |
| UNITS PER CASE/BAG | 10 |
| AVERAGE UNIT WEIGHT | 1 kg |
| AVERAGE CASE WEIGHT | 10 kg |
| UNIT BARCODE  | 6009 703 320 310 |
| CASE BARCODE | 2 6009 703 320 314 |
| PALLET CONFIG. | 75 |
Chicken Soup Pack 2 kg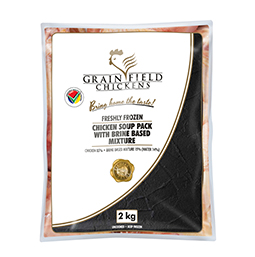 | | |
| --- | --- |
| PRODUCT CODE | ZLG 102 |
| PRODUCT DESCRIPTION | Chicken Soup Pack 2 kg |
| UNITS PER CASE/BAG | 5 |
| AVERAGE UNIT WEIGHT | 2 kg |
| AVERAGE CASE WEIGHT | 10 kg |
| UNIT BARCODE  | 6009 703 320 471 |
| CASE BARCODE | 2 6009 703 320 475 |
| PALLET CONFIG. | 75 |
Liver Bag 1 kg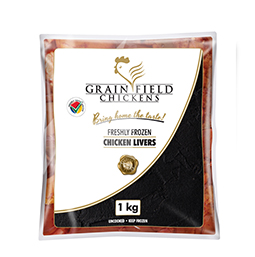 | | |
| --- | --- |
| PRODUCT CODE | ZLG 014 |
| PRODUCT DESCRIPTION | Liver Bag 1 kg |
| UNITS PER CASE/BAG | 10 |
| AVERAGE UNIT WEIGHT | 1 kg |
| AVERAGE CASE WEIGHT | 10 kg |
| UNIT BARCODE  | 6009 703 320 211 |
| CASE BARCODE | 2 6009 703 320 215 |
| PALLET CONFIG. | 100 |
Liver Tray 500 g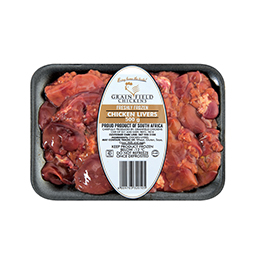 | | |
| --- | --- |
| PRODUCT CODE | ZLG 013 |
| PRODUCT DESCRIPTION | Liver Tray 500 g |
| UNITS PER CASE/BAG | 24 |
| AVERAGE UNIT WEIGHT | 500 g |
| AVERAGE CASE WEIGHT | 12 kg |
| UNIT BARCODE  | 6009 703 320 105 |
| CASE BARCODE | 2 6009 703 320 109 |
| PALLET CONFIG. | 75 |
Necks Bag 1 kg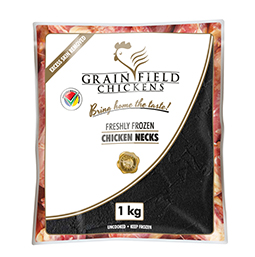 | | |
| --- | --- |
| PRODUCT CODE | ZLG 032 |
| PRODUCT DESCRIPTION | Necks Bag 1 kg |
| UNITS PER CASE/BAG | 10 |
| AVERAGE UNIT WEIGHT | 1 kg |
| AVERAGE CASE WEIGHT | 10 kg |
| UNIT BARCODE  | 6009 703 320 259 |
| CASE BARCODE | 2 6009 703 320 253 |
| PALLET CONFIG. | 100 |
Necks Tray 500 g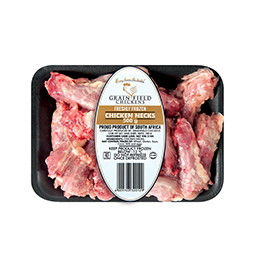 | | |
| --- | --- |
| PRODUCT CODE | ZLG 031 |
| PRODUCT DESCRIPTION | Necks Tray 500 g |
| UNITS PER CASE/BAG | 24 |
| AVERAGE UNIT WEIGHT | 500 g |
| AVERAGE CASE WEIGHT | 12 kg |
| UNIT BARCODE  | 6009 703 320 129 |
| CASE BARCODE | 2 6009 703 320 123 |
| PALLET CONFIG. | 70 |
Hearts Bag 1 kg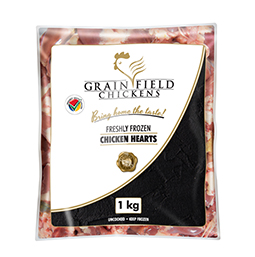 | | |
| --- | --- |
| PRODUCT CODE | ZLG 022 |
| PRODUCT DESCRIPTION | Hearts Bag 1 kg |
| UNITS PER CASE/BAG | 10 |
| AVERAGE UNIT WEIGHT | 1 kg |
| AVERAGE CASE WEIGHT | 10 kg |
| UNIT BARCODE  | 6009 703 320 266 |
| CASE BARCODE | 2 6009 703 320 260 |
| PALLET CONFIG. | 100 |
Hearts Tray 500 g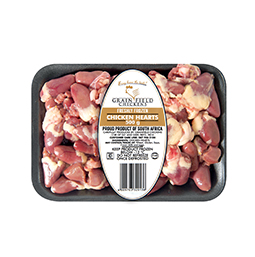 | | |
| --- | --- |
| PRODUCT CODE | ZLG 021 |
| PRODUCT DESCRIPTION | Hearts Tray 500 g |
| UNITS PER CASE/BAG | 24 |
| AVERAGE UNIT WEIGHT | 500 g |
| AVERAGE CASE WEIGHT | 12 kg |
| UNIT BARCODE  | 6009 703 320 136 |
| CASE BARCODE | 2 6009 703 320 130 |
| PALLET CONFIG. | 75 |
Gizzards Bag 1 kg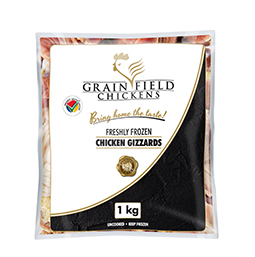 | | |
| --- | --- |
| PRODUCT CODE | ZLG 042 |
| PRODUCT DESCRIPTION | Gizzards Bag 1 kg |
| UNITS PER CASE/BAG | 10 |
| AVERAGE UNIT WEIGHT | 1 kg |
| AVERAGE CASE WEIGHT | 10 kg |
| UNIT BARCODE  | 6009 703 320 273 |
| CASE BARCODE | 2 6009 703 320 277 |
| PALLET CONFIG. | 100 |
Gizzards Tray 500 g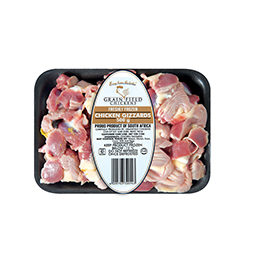 | | |
| --- | --- |
| PRODUCT CODE | ZLG 041  |
| PRODUCT DESCRIPTION | Gizzards Tray 500 g |
| UNITS PER CASE/BAG | 24 |
| AVERAGE UNIT WEIGHT | 500 g |
| AVERAGE CASE WEIGHT | 12 kg |
| UNIT BARCODE  | 6009 703 320 143 |
| CASE BARCODE | 2 6009 703 320 147 |
| PALLET CONFIG. | 75 |
Heads & Feet (clean/peeled feet) 1 kg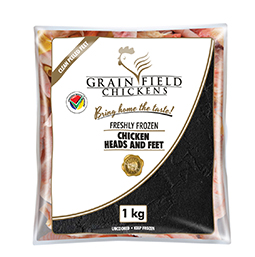 | | |
| --- | --- |
| PRODUCT CODE | ZLG 051 |
| PRODUCT DESCRIPTION | Heads & Feet (clean/peeled feet) 1 kg |
| UNITS PER CASE/BAG | 10 |
| AVERAGE UNIT WEIGHT | 1 kg |
| AVERAGE CASE WEIGHT | 10 kg |
| UNIT BARCODE  | 6009 703 320 150 |
| CASE BARCODE | 2 6009 703 320 154 |
| PALLET CONFIG. | 75 |
Feet clean/peeled 5 kg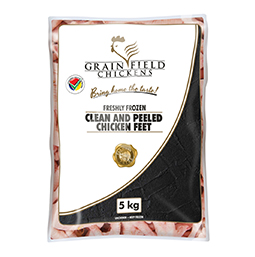 | | |
| --- | --- |
| PRODUCT CODE | ZLG 071 |
| PRODUCT DESCRIPTION | Feet clean/peeled 5 kg  |
| UNITS PER CASE/BAG | 2 |
| AVERAGE UNIT WEIGHT | 5 kg |
| AVERAGE CASE WEIGHT | 10 kg |
| UNIT BARCODE  | 6009 703 320 235 |
| CASE BARCODE | 2 6009 703 320 239 |
| PALLET CONFIG. | 75 |
Heads 5 kg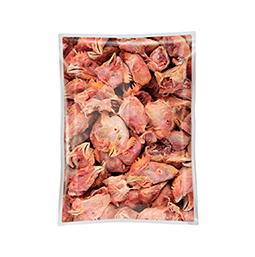 | | |
| --- | --- |
| PRODUCT CODE | ZLG 061 |
| PRODUCT DESCRIPTION | Heads 5 kg |
| UNITS PER CASE/BAG | 2 |
| AVERAGE UNIT WEIGHT | 5 kg |
| AVERAGE CASE WEIGHT | 10 kg |
| UNIT BARCODE  | 6009 703 320 242 |
| CASE BARCODE | 2 6009 703 320 246 |
| PALLET CONFIG. | 75 |
Mala Bag 1 kg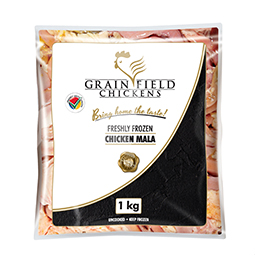 | | |
| --- | --- |
| PRODUCT CODE | ZLG 081 |
| PRODUCT DESCRIPTION | Mala Bag 1 kg |
| UNITS PER CASE/BAG | 10 |
| AVERAGE UNIT WEIGHT | 1 kg |
| AVERAGE CASE WEIGHT | 10 kg |
| UNIT BARCODE  | 6009 703 320 167 |
| CASE BARCODE | 2 6009 703 320 161 |
| PALLET CONFIG. | 100 |
---
Frozen Whole Chicken
Whole Chicken with Giblets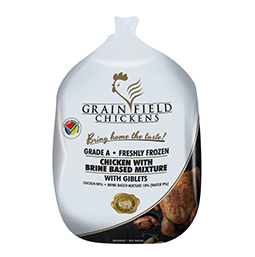 | | |
| --- | --- |
| PRODUCT CODE | ZWG 011 |
| PRODUCT DESCRIPTION | Whole Chicken with Giblets |
| UNITS PER CASE/BAG | 5 |
| AVERAGE UNIT WEIGHT | RDW |
| AVERAGE CASE WEIGHT | RDW |
| UNIT BARCODE  | Weight embedded |
| CASE BARCODE | Weight embedded |
| PALLET CONFIG. | 75 |
Whole Chicken without Giblets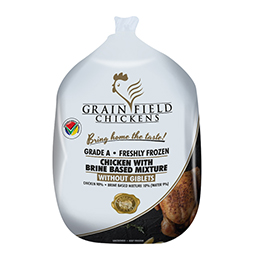 | | |
| --- | --- |
| PRODUCT CODE | ZWG 021 |
| PRODUCT DESCRIPTION | Whole Chicken without Giblets |
| UNITS PER CASE/BAG | 10 |
| AVERAGE UNIT WEIGHT | RDW |
| AVERAGE CASE WEIGHT | RDW |
| UNIT BARCODE  | Weight embedded |
| CASE BARCODE | Weight embedded |
| PALLET CONFIG. | 75 |
---
Frozen Mixed Portions
IQF Mixed Portions 2 kg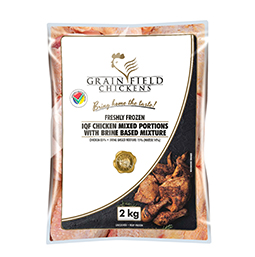 | | |
| --- | --- |
| PRODUCT CODE | IMG 007 |
| PRODUCT DESCRIPTION | IQF Mixed Portions 2 kg |
| UNITS PER CASE/BAG | 6 |
| AVERAGE UNIT WEIGHT | 2kg |
| AVERAGE CASE WEIGHT | 12 kg |
| UNIT BARCODE  | 6009 703 320 907 |
| CASE BARCODE | 2 6009 703 320 901 |
| PALLET CONFIG. | 75 |
IQF Mixed Portions 5 kg
| | |
| --- | --- |
| PRODUCT CODE | IMG 008 |
| PRODUCT DESCRIPTION | IQF Mixed Portions 5 kg |
| UNITS PER CASE/BAG | 3 |
| AVERAGE UNIT WEIGHT | 5 kg |
| AVERAGE CASE WEIGHT | 15 kg |
| UNIT BARCODE  | 6009 703 320 914 |
| CASE BARCODE | 2 6009 703 320 918 |
| PALLET CONFIG. | 65 |
IQF Mixed Portions 1.5 kg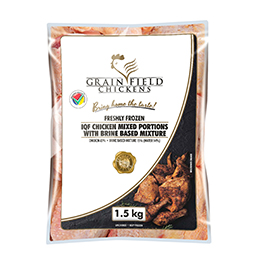 | | |
| --- | --- |
| PRODUCT CODE | IMG 010 |
| PRODUCT DESCRIPTION | IQF Mixed Portions 1.5 kg |
| UNITS PER CASE/BAG | 8 |
| AVERAGE UNIT WEIGHT | 1.5 kg |
| AVERAGE CASE WEIGHT | 12 kg |
| UNIT BARCODE  | 6009 703 320 891 |
| CASE BARCODE | 2 6009 703 320 895 |
| PALLET CONFIG. | 75 |
---
Frozen Prime Portions
IQF Chicken Drumsticks 5 kg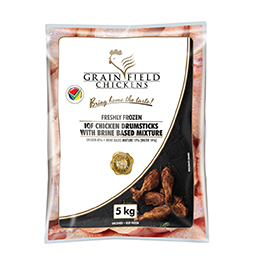 | | |
| --- | --- |
| PRODUCT CODE | IPG 014 |
| PRODUCT DESCRIPTION | IQF Chicken Drumsticks 5 kg |
| UNITS PER CASE/BAG | 1 |
| AVERAGE UNIT WEIGHT | 5 kg |
| AVERAGE CASE WEIGHT | 5 kg |
| UNIT BARCODE  | 6009 703 320 921 |
| CASE BARCODE | 2 6009 703 320 925 |
| PALLET CONFIG. | 150 |
IQF Chicken Wings 5 kg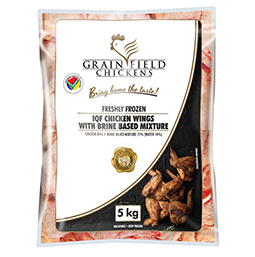 | | |
| --- | --- |
| PRODUCT CODE | IPG 024 |
| PRODUCT DESCRIPTION | IQF Chicken Wings 5 kg |
| UNITS PER CASE/BAG | 1 |
| AVERAGE UNIT WEIGHT | 5 kg |
| AVERAGE CASE WEIGHT | 5 kg |
| UNIT BARCODE  | 6009 703 320 938 |
| CASE BARCODE | 2 6009 703 320 932 |
| PALLET CONFIG. | 150 |
IQF Chicken Breasts 5 kg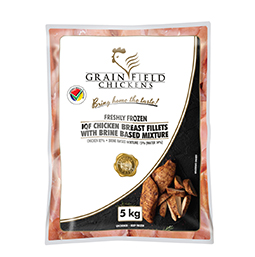 | | |
| --- | --- |
| PRODUCT CODE | IPG 034 |
| PRODUCT DESCRIPTION | IQF Chicken Breasts 5 kg |
| UNITS PER CASE/BAG | 1 |
| AVERAGE UNIT WEIGHT | 5 kg |
| AVERAGE CASE WEIGHT | 5 kg |
| UNIT BARCODE  | 6009 703 320 952 |
| CASE BARCODE | 2 6009 703 320 956 |
| PALLET CONFIG. | 150 |
IQF Chicken Breast Fillets 5 kg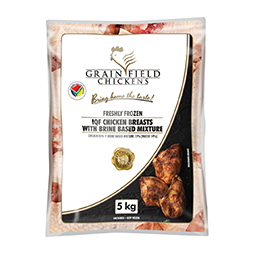 | | |
| --- | --- |
| PRODUCT CODE | IPG 046  |
| PRODUCT DESCRIPTION | IQF Chicken Breast Fillets 2 x 5 kg |
| UNITS PER CASE/BAG | 2 |
| AVERAGE UNIT WEIGHT | 5 kg |
| AVERAGE CASE WEIGHT | 10 kg |
| UNIT BARCODE  | 6009 703 320 969 |
| CASE BARCODE | 2 6009 703 320 963 |
| PALLET CONFIG. | 75 |
| | |
| --- | --- |
| PRODUCT CODE | IPG 045 |
| PRODUCT DESCRIPTION | IQF Chicken Breast Fillets 1 x 5 kg |
| UNITS PER CASE/BAG | 1 |
| AVERAGE UNIT WEIGHT | 5 kg |
| AVERAGE CASE WEIGHT | 5 kg |
| UNIT BARCODE  | 6009 703 320 969 |
| CASE BARCODE | 1 6009 703 320 966 |
| PALLET CONFIG. | 150 |
IQF Chicken Thighs 5 kg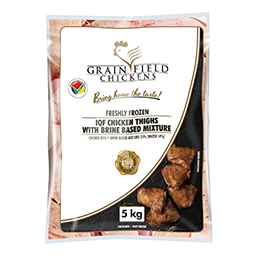 | | |
| --- | --- |
| PRODUCT CODE | IPG 054 |
| PRODUCT DESCRIPTION | IQF Chicken Thighs 5 kg  |
| UNITS PER CASE/BAG | 2 |
| AVERAGE UNIT WEIGHT | 5 kg |
| AVERAGE CASE WEIGHT | 10 kg |
| UNIT BARCODE  | 6009 703 320 945 |
| CASE BARCODE | 2 6009 703 320 949 |
| PALLET CONFIG. | 150 |
IQF Chicken Leg Quarters 5 kg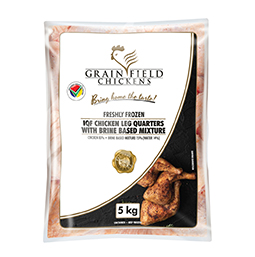 | | |
| --- | --- |
| PRODUCT CODE | IPG 066 |
| PRODUCT DESCRIPTION | IQF Chicken Leg Quarters 2 x 5 kg |
| UNITS PER CASE/BAG | 2 |
| AVERAGE UNIT WEIGHT | 5 kg |
| AVERAGE CASE WEIGHT | 10 kg |
| UNIT BARCODE  | 6009 703 320 976 |
| CASE BARCODE | 2 6009 703 320 970 |
| PALLET CONFIG. | 75 |
| | |
| --- | --- |
| PRODUCT CODE | IPG 065 |
| PRODUCT DESCRIPTION | IQF Chicken Leg Quarters 1 x 5 kg |
| UNITS PER CASE/BAG | 1 |
| AVERAGE UNIT WEIGHT | 5 kg |
| AVERAGE CASE WEIGHT | 5 kg |
| UNIT BARCODE  | 6009 703 320 976 |
| CASE BARCODE | 1 6009 703 320 973 |
| PALLET CONFIG. | 150 |