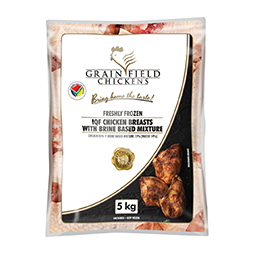 Satisfy your grilled cravings with this tangy lemon and spiced chicken skewers recipe. It's an easy dish to prepare and cook. Marinate it in lemon, spices, cumin and garlic to bring out the chicken's juicy flavours. Cook it carefully in medium heat for the most tender and zesty chicken skewers you will ever taste.
This recipe is an ideal summer picnic food or afternoon at the backyard kind of dish, best enjoyed with a couple of cold drinks!
Ingredients
4 pieces Grain Field Chickens IQF Breast Fillets, cubed
Salt and freshly ground black pepper
45ml (3 tbsp) fresh ginger, crushed
2 garlic cloves, finely chopped
30ml (2 tbsp) ground cumin
15ml (1 tbsp) mixed spices
Juice and zest of 3 lemons
60ml (¼ cup) olive oil
Method
Preheat the griddle pan to hot.
Put the chicken fillet cubes into a mixing bowl and add all of the remaining ingredients. Mix well to combine. Refrigerate for 30 minutes.
In the meantime, place the bamboo skewers into a glass of water to prevent them from burning during cooking.
Thread six pieces of the chicken onto the bamboo skewers and grill the chicken until cooked and golden, about 15 minutes. Serve while still hot, with new potatoes and green salad.
Bring home the taste and make this chicken skewers recipe with Grain Field Chickens IQF Breast Fillets. For more high-quality fresh and frozen South African poultry, view our chicken products here.