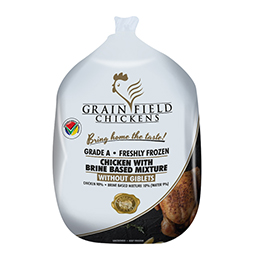 Roasting whole chickens can be a daunting task, but with Grain Field Chicken's pot-roasted chicken recipe, you will surely get it done without a fuss. This pot-roasted whole chicken is made with fresh herbs and cider vinegar that seeps deep into the chicken meat. Savour it with a serving of creamy spinach and let each bite just melt in your mouth.
With just a few ingredients, you can have a mouth-watering and aromatic main dish perfect for all occasion. Make this pot roasted chicken recipe easier with Grain Field Chickens Frozen Whole Chicken.
Ingredients
125ml dry cider
3 large onions, sliced
45ml fresh thyme leaves
Salt and freshly ground black pepper
1 x Grain Field Chickens Whole Chicken
150ml thick fresh cream
300g baby spinach
Method
Preheat the oven to 180°C. Rinse the chicken and pat dry. Tie the legs together with kitchen string tucking the wings under.
Place the whole chicken in a deep casserole, breast side up and pour over the cider. Place the onions and thyme all around the chicken. Season well, cover and roast for about 45 minutes.
Uncover the chicken and continue to roast until golden, for a further 30 minutes. Remove the chicken and keep warm.
Pour any pan juices into a small frying pan and over low heat, add the cream and stir to heat through. Don't overheat the cream or it might split.
Mix in the spinach, cover and cook for about 2 minutes until the spinach has wilted. Season with salt and fresh ground pepper. Serve the pot-roasted chicken with the onions and spinach.
Grain Field Chickens offers freshly frozen whole chickens with or without giblets. All packaged in our brine-based mixture for maintained freshness and full flavour.