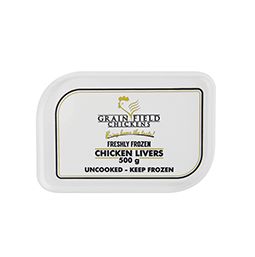 It is a useful thing to keep a handy chicken liver pâté recipe when you need a tasty snack or an appetizer for any event. This Portuguese chicken liver pâté is particularly best served as a spread together with toasted bread or fresh baguettes. It is also an excellent dip for potato chips or crackers.
Make your homemade chicken liver pâté with simple ingredients from your kitchen, your favourite brandy, and Grain Field Chickens Chicken Liver Tub. Follow the recipe below.
Ingredients
4 pickling onions, peeled and chopped
200g butter, at room temperature
100g butter, cubed
1 x 500g Grain Field Chickens Chicken Liver Tub
60ml (¼ cup) brandy
Salt and freshly ground black pepper
Method
Clean the chicken livers using a small knife to remove any white sinew or greenish patches. Place the cleaned livers in a colander, rinse under cold water, drain and pat dry with paper towels.
Melt the butter in a heavy-base pot and sauté the onions for a few seconds. Add the cleaned chicken livers and brandy. Simmer for 10 minutes.
Season
Spoon the mixture into a food processor and process until smooth. If you find that the mixture is not smooth enough, pass through a sieve. Adjust the seasoning by adding salt and ground pepper.
Spoon the mixture into ramekins and use the back of a spoon to smooth the surface.
Melt the cubed butter in a small saucepan and pour over the surface of the pate.
Once the butter sets, cover with plastic wrap and refrigerate until ready to use.
Serve the chicken liver pâté with bread or crackers.
With Grain Field Chickens, packs of chicken giblets are available for quick-cooking preparations. Get South African poultry straight from the farms of The Free State.