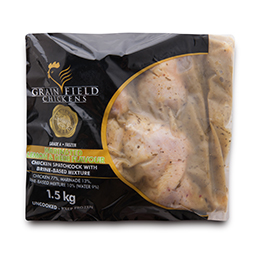 Beat the summer heat and add a refreshing twist to Grain Field Chickens Marinated Lemon & Herb Spatchcock. These herbed spatchcocks are marinated in our original brine-based mixture seasoned with fresh herbs and spices. Add a dash of cool flavours to your grilled chicken recipe with some minty couscous and delight with freshness while hanging out in your backyard or out at the beach. Get this herbed chicken spatchcock recipe below.
Ingredients
Grain Field Chickens Marinated Lemon & Herb Spatchcock
250g Rosa tomatoes halved
50g whole almonds, toasted
60ml fresh mint leaves roughly torn
Salt and ground black pepper, to taste
Minty couscous
200g couscous
450ml hot chicken stock
Method
To make the couscous, put the couscous in a large bowl and pour over the chicken stock. Cover and leave until the stock is absorbed, for about 20 minutes.
In the meantime, heat a griddle pan to hot and grill the marinated chicken spatchcock reserving 125ml of the marinade until it is cooked, about 30 minutes turning once or twice.
Fluff up the couscous with a fork and cool for a few minutes. Fold in the tomatoes, nuts, half of the mint, reserved marinade, and season.
Serve the grilled chicken in pieces over the couscous and sprinkle with the remaining mint.
Enjoy more mouth-watering chicken meals with your loved ones using the best South African chicken household brand. Grain Field Chickens – bring home the taste!