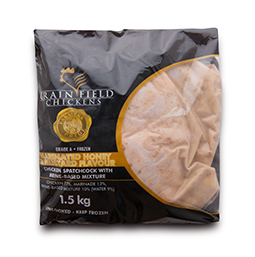 Coming up with a unique chicken spatchcock recipe is easy with Grain Field Chickens Marinated Honey & Mustard Spatchcock. The original butter-brine mixture of our marinade keeps the original flavour and the freshness of the chicken bringing you only the juiciest chicken spatchcock dish.
The secret process to this sweet savoury dish is done by roasting your chicken spatchcocks to perfection and adding some glazed carrots for extra sweetness. Get the recipe here.
Ingredients
Grain Field Chickens Honey & Mustard Spatchcock
30ml butter
Salt and freshly ground black pepper, to taste
Zest of 1 lemon, finely grated
30ml fresh thyme
60ml running honey
250g Baby carrots
100g brown sugar
Method
Preheat the oven to 180°C.
Rub the chicken spatchcock all over with the butter and season. Place on a roasting tray and roast for about 1 hour.
Remove the chicken and pour the pan juices into a bowl and set aside.
Place the chicken back into the roasting tray. Mix the zest, thyme and honey and pour over the chicken. Return to the oven and continue to roast for a further 20 minutes basting the chicken every 4 minutes.
Switch off the oven and leave the roasted chicken to rest for about 10 minutes. Remove the chicken and set aside.
Heat the honey pan juices with the previously reserved juices and a little water if necessary and mix to heat up.
In the meantime, cook the carrots in boiling water until just tender. Drain and reserve 30ml (2 tbsp) of the water. Add the sugar and continue stirring until the sugar has dissolved and the carrots are glazed.
Serve the roasted chicken spatchcock with the pan juices and glazed carrots.
Serve the most authentic South African taste for any happenings with Grain Field Chickens.