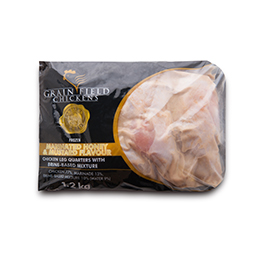 Spice up your classic grilled chicken legs recipe! Whether it's a summer trip with your friends or just a typical dinner with your family, enjoy a mouth-watering meal with Grain Field Chickens Marinated Honey & Mustard Leq Quarters.
Compliment a juicy grilled chicken leg quarter with Pilaf rice and get an instant twist for your dish. Try the recipe below.
Ingredients
200g basmati rice
60ml olive oil
1 large onion, finely chopped
2 garlic cloves, finely chopped
15ml ginger, finely chopped
1 cinnamon stick
1 star anise
1 litre chicken stock
10ml turmeric
Pinch of ground cloves
5ml garam masala
125ml raisins
125ml peas
2 hardboiled eggs, quartered
60ml cashew nuts
Grain Field Chickens Honey & Mustard Leg Quarters
Method
Wash the rice in cold water until the water is clear.
Heat the oil in a large frying pan and over medium heat sauté the onions and garlic. Add the ginger, cinnamon stick and star anise. Cook for about a minute, add the rice and cook stirring for 5 minutes.
Bring the stock to the boil together with the turmeric, cloves, garam masala and raisins and pour over the rice. Stir to combine then reduce the heat. Cover and cook for about 20 minutes until the rice is tender.
Add the peas and stir with a fork. Cover and set aside, fluff the rice with a fork and transfer to a serving bowl and keep warm.
Heat a griddle pan to hot and grill the chicken leg quarters until cooked and crispy.
Serve the grilled chicken legs together with the Pilaf rice topped with the eggs and nuts.
See more premium value-added chicken products here straight from the farms of the Free State!