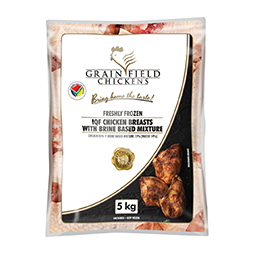 Add extra spice to a delightful grilled chicken breast and bring it to a whole new level. Rubbing a yoghurt and tandoori mixture will keep the chicken juicy and tasty. The yoghurt will bring in a zesty and creamy flavour that gets even better with every bite.
Stirring in chilli gives the rice heat that is levelled by the fresh coriander. The toasted almonds create a texture that blends the whole rice with the creamy grilled chicken breasts. Excited to try this delicious meal? Get the recipe below and make sure to try it with Grain Field Chickens IQF Breast Fillets. 
Ingredients
190ml plain yoghurt
20ml ground tandoori spice mixture
5 Grain Field Chickens IQF Breast Fillets
45ml butter
1 large onion, sliced
15ml ground cardamom
250g basmati rice
450ml chicken stock
30ml flaked almonds, toasted
1 green chilli, seeded and finely chopped
45ml fresh coriander, chopped
Method
Mix the yoghurt and tandoori until well combined. Rub the yoghurt mixture all over the chicken breasts.
Melt the butter in a frying pan and sauté the onions and cardamom for a few minutes. Add the rice and stock and bring to a simmer. Cover and cook until the rice is tender. Add more stock if you think it is necessary.
Grill the chicken breasts until golden and cooked through.
Stir the almonds, chilli, and coriander through the rice and serve with the chicken sliced or whole.
Grain Field Chickens puts food safety at the highest standards, which makes it among the best in the world – guaranteed careful processing and maintained freshness for the best chicken dishes.
Get IQF Breast Fillets and more freshly frozen poultry straight from the farms of The Free State.