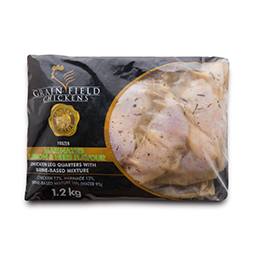 Grain Field Chickens embodies authentic South African chicken flavour.  As a household brand, we want to bring the freshest and most tasty chicken to your table.
Roast it to perfection and savour every bite, or try our Marinated Lemon & Herb Chicken Leg Quarters.
This braised chicken quarters recipe with chopped bacon and Dijon mustard will surely be a staple in any household! Get the recipe below.
Ingredients
45ml (3 tbsp) olive oil
Grain Field Chickens Marinated Lemon & Herb Chicken
250g bacon rashers, chopped
1 large onion, sliced
15ml cake flour
250ml dry cider
45ml Dijon mustard
1 small head of cabbage
45ml butter
Method
Preheat the oven to 180°C.
Heat the oil in a roasting pan and cook the braised chicken quarters until golden, for about 5 minutes on each side. Remove and set aside.
In the same pan, add the bacon and onion and sauté until the bacon is golden, for about 3 minutes. Stir in the flour and cook for a further minute. Gradually add in the cider and stir in the mustard.
Add the roasted chicken back the mixture and cover with foil and bake until the chicken is cooked through for about 40 minutes.
Steam the cabbage until just tender and toss through the butter. Serve with the chicken while still hot.
View other flavours of marinated chicken leg quarters here. Need we say more? Grain Field Chickens – bring home the taste!