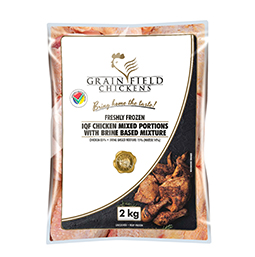 Grain Field Chickens produces the best frozen products for your chicken recipes! So, if you are looking for a hearty meal for your family, try this oven-baked curried chicken and mango served with quinoa using our IQF Chicken Mixed Portions. Check out our curry chicken bake recipe.
Ingredients
45ml olive oil
2 onions, coarsely chopped
30ml mild curry powder
1 x 420g tin sliced mango, drained
10ml chicken stock cube, crumbled
2 large tomatoes, chopped
250ml fresh cream
Salt and freshly ground black pepper
5 pieces Grain Field Chickens, IQF Mixed Portions
500ml chicken stock
250ml quinoa, cooked
60ml fresh coriander, chopped
15ml flaked almonds, toasted
Method
Preheat the oven to 180°C. Heat the oil in a frying pan and sauté the onions for about 2 minutes. Add the curry powder, mango, stock, tomato and fresh cream. Season and bring to the boil.
Place Grain Field Chickens IQF Chicken Mixed Portion pieces in a baking dish and pour the mango mixture over. Cover and bake for about 45 minutes. Uncover and continue to cook until the chicken pieces are cooked through, for 15 minutes more.
For the quinoa, bring the stock to a boil and cook the quinoa for about 20 minutes—drain and season with salt.
Serve the chicken garnished with the coriander, almonds and quinoa, while still hot.
Loved this baked curried chicken recipe and want to try more of Grain Field Chickens products?